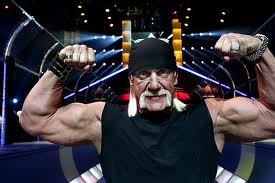 Terry Gene Bollea, known by his ring name Hulk Hogan (born August 11, 1953), is an American semi-retired professional wrestler, actor, television personality, entrepreneur, and musician. He has wrestled for many wrestling companies such as the WWF (World Wrestling Federation now World Wrestling Entertainment or WWE), WCW (World Championship Wrestling) and currently the TNA (Total Nonstop Action Wrestling). He has been friends with fellow wrestlers & managers over years including the American dream Dusty Rhodes and the "Mouth of the South" Jimmy Hart.
Outside Wrestling Career
Edit
Outside the ring, Hulk Hogan has been active in the entertainment industry. He has starred in the short-lived TV series Thunder in Paradise as well the direct-to-video movies that inspired the series. Other film credits include, Suburban Commando (opposite Christopher Lloyd & Shelley Duvall), Mr. Nanny, Muppets from Space and 3 Ninjas: High Noon at Mega Mountain. Also on the small screen he was the host of the 2008 revival of American Gladiators and that same year he hosted Hulk Hogan's Celebrity Championship Wrestling.
Personal Life
Edit
Hulk was married for 25 years to Linda Claridge from 1983-2008. Today he's married to Jennifer McDaniel; they've been together since 2008. He has two children: Nick and aspiring young singer Brooke.
His Official Site
His Facebook Page
His Twitter Page

Ad blocker interference detected!
Wikia is a free-to-use site that makes money from advertising. We have a modified experience for viewers using ad blockers

Wikia is not accessible if you've made further modifications. Remove the custom ad blocker rule(s) and the page will load as expected.