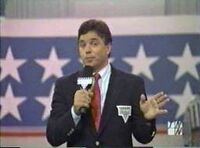 Michael David "Mike" Adamle (born October 4, 1949) is a sports personality and former American football player. He is best known as the co-host of American Gladiators series for seven years.
Adamle is currently a sports anchor and reporter at WMAQ-TV in Chicago, Illinois. In addition, he has previously been an anchor at other Chicago television stations, including WLS-TV from 1983-1989 before hosting American Gladiators, a first stint at WMAQ from 1998–2001, and then at WBBM-TV from 2001-2004 before returning to Channel 5. For much of 2008, Adamle worked for World Wrestling Entertainment (WWE) in a variety of roles, including interviewer, play-by-play commentator, and General Manager of Raw.
Ad blocker interference detected!
Wikia is a free-to-use site that makes money from advertising. We have a modified experience for viewers using ad blockers

Wikia is not accessible if you've made further modifications. Remove the custom ad blocker rule(s) and the page will load as expected.