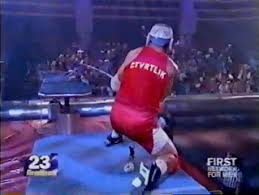 The contender faced a Gladiator in a two-man tug of war, conducted on tilting platforms. The contender started with their platform tilted back, while the Gladiator had to start tilted forward.
If the contender could pull the Gladiator off (or pull the rope out of the Gladiator's hands) in 30 seconds, they earned 10 points. Five points could be earned if the contender pulled more rope, with a flag, to their side when time expired.
Ad blocker interference detected!
Wikia is a free-to-use site that makes money from advertising. We have a modified experience for viewers using ad blockers

Wikia is not accessible if you've made further modifications. Remove the custom ad blocker rule(s) and the page will load as expected.